Radford Semele Neighbourhood Plan - Regulation 16 Submission
Ended on the 18th August 2020
(3)

Appendix 7 – Cycle Routes, Bridleways and Footpaths in Radford Semele (update link ref)
Radford Semele has a rapidly increasing population, due to grow much more. There is already pressure on the existing Public Rights of Way, indicated on the map as footpaths, bridle paths and cycle paths. There was a strong demand for an increase in the range of Public Rights of Way to provide safe routes along roads within and adjoining the village, concern being raised about the lack of safe cycle routes, especially for children.
Figure 22 - Style at the exit to Angley Woods
It can be seen on the map (Map A7) that there are potential links that would usefully extend routes within the Parish for those wishing to move around the village and its environs. Such improvements could give more accessibility for all, particularly for those from the new estate, Semele Park where residents have commented that they feel isolated from the village. A safe crossing of Southam Road beside the bus stop by Lewis Road is much requested.
Improving public footpaths and bridleways plus providing safer cycle routes would also contribute to the well-being of residents, providing opportunities for a healthier lifestyle. It would enable people to make the journey safely to Leamington Spa without using cars, so being beneficial to all.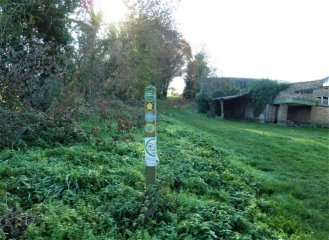 Figure 23- Path along the Greenway, Valley Road
The paths offer access to the countryside; many of which cross privately owned land which are managed by landowners or tenants. Some of these footpaths are permissive in nature and therefore use of these public rights of access is only granted by landlord permission.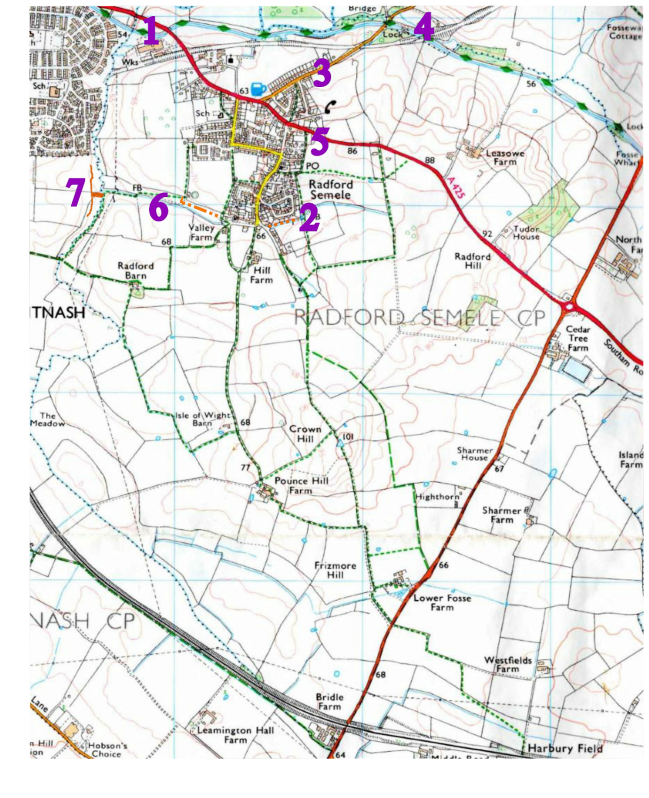 Map A 7 Key Footpaths & Bridleways in the Parish
Location No. Map A7

RS8/1

Where the A 425 road bridge passes over the canal, current access to the canal is difficult and there is no footpath on the N side of the road, from where the canal path is accessed via a steep and jagged unmade path.

This necessitates a risky crossing of the busy road and denying access to many. The Canal and River Trust is working to build a new, safe path down to the canal path on the South side of the road which will be accessible to all.

RS8/2

At present a permissive footpath crosses Leigh Foss. It is hoped that the application to the County Council for a DMMO (Definitive Map Modification Order) under consideration will make it an official footpath.

RS8/3

There is no footpath along Offchurch Lane from the houses to the canal. The lane is used by fast traffic, dangerous to pedestrians and cyclists alike. Many residents requested that a safe arrangement be found, and we would support a solution which provides all with safe access for all to the canal towpath (the Centenary Way).

RS8/4

Although not within the bounds of the Parish of Radford Semele, many requests were made to link the footpath over the viaduct (at present closed off) to the permissive path from Offchurch Lane to the viaduct on the North side of the new development, Semele Park. Many consider this would be a valuable addition to the footpath network. This would link the old Railway track with the village and allow safe access to the canal.

RS8/5

Similarly, there is no footpath from the East bus-stop on the A 425 to the Canalside Community Food site; such a path would be a vast improvement as at present people visiting the site tend to drive as they feel walking or cycling is too dangerous.

RS8/6

FoRGE is working on producing evidence to link the existing path (W121) at the rear of William's Road with the existing path (W119b) on the other side of the field to validate the commonly used track.

RS8/7

A new bridge over the stream to replace the now damaged tree trunk that has been used for longer than 30 years. This would make the Nature Reserve accessible to Radford Semele Residents. (One resident remembers there being a footbridge over the brook which was demolished by the tree when it fell.)
back to top
back to top