Radford Semele Neighbourhood Plan - Regulation 16 Submission
Ended on the 18 August 2020
(6)

1.0 Introduction and Background
1.1 The Localism Act 2011 gives Parish and Town Councils and other relevant bodies new powers to prepare statutory Neighbourhood Development Plans (NDPs) to help guide development in their local areas. Through NDPs, local people have the opportunity to shape new developments because planning applications are determined in accordance with the development plan, unless material considerations indicate otherwise. Once made (i.e. formally approved), the Radford Semele Neighbourhood Development Plan (RSNDP) will form part of the statutory development plan for Warwick district.
1.2 NDPs must be in general conformity with the local strategic planning framework which, in this area, is provided by WDC and be consistent with national planning policies and guidance contained in the National Planning Policy Framework (NPPF) and National Planning Practice Guidance (NPPG). NDPs have to plan positively and promote sustainable development.
1.3 The preparation of an NDP is a complex and lengthy process taking around 3 years to complete. The main steps in preparing a NDP are set out in Figure 1 below. This report reflects that we are at the Regulation 16 Submission stage .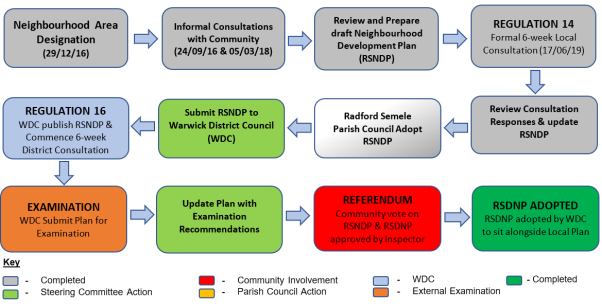 Figure 1 Neighbourhood Plan Process
1.4 The Radford Semele neighbourhood area was designated by WDC on 29th December 2016 and is shown on Information Map 1.
1.5 A Steering Group was established in order to progress the Plan and ensure that it reflects the wishes, interests and aspirations of Radford Semele's community.
1.6 The RSNDP has been prepared taking into consideration views and comments made at village two drop in events, three consultations, feedback from a dedicated website and Facebook site, the FoRGE (Friends of Radford Semele Green Environment) newsletter, village shop, through survey work, and the formal Regulation 14 consultation.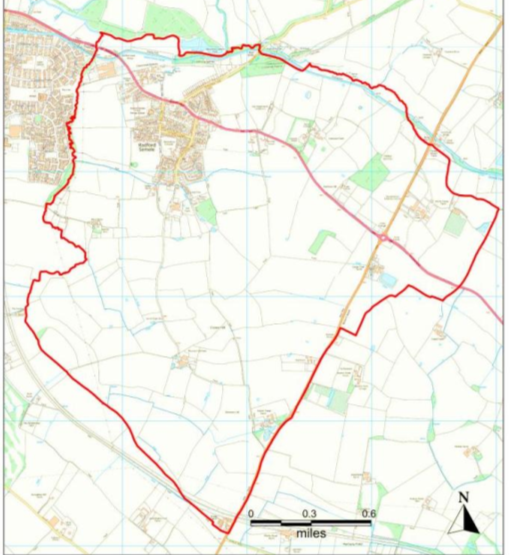 Information Map 1 - Radford Semele Designated Neighbourhood Plan Area
back to top
back to top