Canalside Draft DPD
Ended on the 2 December 2019
SECTION 7
Is there any future for canals as freight corridors?
7.1 Much of the use of canals for the transportation of freight has died out and certainly in the Midlands. This is largely due to the restrictions on size of boats able to negotiate the smaller canals prevalent here. Elsewhere in the country, it was the demise of industries that utilised the canals rather than the canals themselves that caused a drop in the use of canals for transporting goods and raw materials, particularly in the heavy industry sector.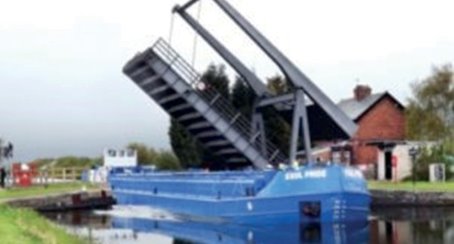 Cargo on the Trent, the Aire & Calder Navigation and the Sheffield & South Yorkshire Navigation included coal, stone, oil, gravel and sand. But this traffic has disappeared (Photo: Canal and River Trust)
7.2 In 2014, the Canal and River Trust carried out a survey to ascertain whether carrying freight on the canals was still a viable practice and if it could be escalated to reduce freight movements by road and rail.
7.3 The report shows that in the Midlands, the smaller canals located here are no longer used for this purpose and are unlikely to be viable into the future without major investment in infrastructure and expansion of the existing system, moreover there appears to be little or no appetite for trying. Further north however, particularly in the north east of the country, this is still a possibility and dependent upon the level of interest shown by those businesses currently or potentially using canals for this use, it may increase in popularity again and provide an alternative to current freight logistics.
7.4 As this is not a potential future use for local canals, emphasis will be on the leisure, accessibility, biodiversity and well-being aspects of the canal system.
7.5 Who can participate?
There are a number of statutory consultees who have been invited to comment on the work that is being undertaken and contribute to the progress of this project
There are a number of special interest groups, user groups and experts who have been invited to offer their views and advice. Specialist advice is always welcome
There are other departments within the Council at both district and county level that have been involved and contribute
Parish and Town Councils also have the opportunity to comment and take part
Businesses both on and close to the canal and beyond are invited to participate in developing new ideas and uses
Anyone can have a say, suggest ideas, offer solutions or point out omissions
back to top
back to top