Canalside Draft DPD
Ended on the 2 December 2019
Biodiversity
4.1 Canal side nature improvements in Birmingham City Centre have introduced 100m of marginal vegetation to once hard-edged sections of the canal. (Wildlife Trust)
4.2 In Warwick district there are two small areas that are affected by a designated local nature reserve. They are both to the east of Leamington Spa:
Immediately to the south and adjoining the canal is the northernmost tip of the Whitnash Brook Valley local nature reserve, and
North of the canal is the southernmost tip of the Leam Valley local nature reserve
Local Plan policies FW1, NE1 and particularly NE2 protect these areas and will apply to any proposals for development along these designated areas where it is adjacent to the canals.
Rubbish dumping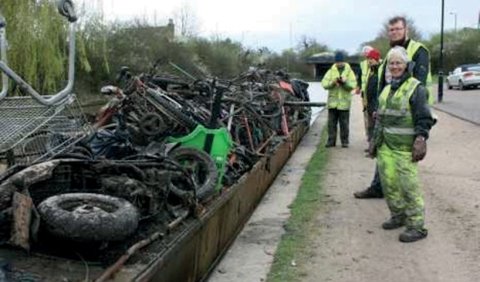 Canal clean-up in Leamington
(Waterways.org.uk)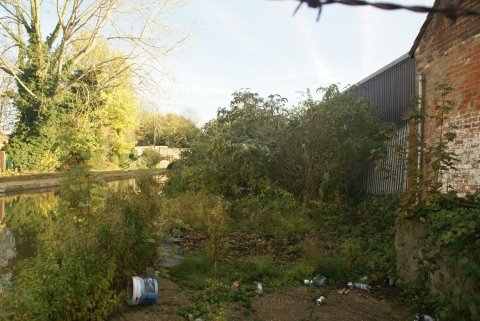 Dumped rubbish in Warwick
Crime and the perception of crime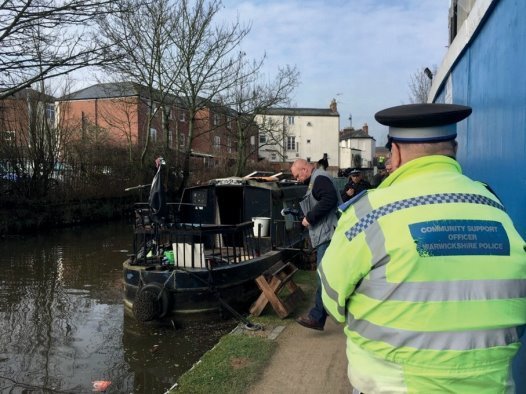 Drugs squad officers raid Leamington canal boat (Coventry Telegraph)
Locks deliberately opened to drain canal
Safety fencing broken off and thrown into canal
Barge and jetty set alight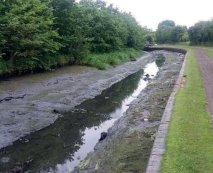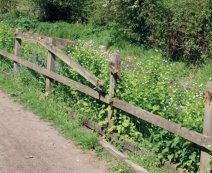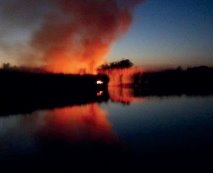 There are also reports of boat windows being smashed, food stolen, break-ins in less secure boats, ropes being cut at moorings etc. but the boating fraternity say that these issues are rare and the stories much exaggerated. Fear of crime is cited as the problem rather than actual crime.
Reported views of visitors on our local canal approaches to town:
"The canal cuts around the hillside with the Leam below. The path widens, passing a winding hole and then across a steel grill with water cascading into the river. There's now a row of moored boats and as you pass rubbish dumped at the busy bridge 35 and then an industrial estate, the smart money is on Leamington not being too far distant.
The canal becomes increasingly unkempt, houses appear and dog faeces need to be avoided before getting to The Fusilier at bridge 37. There are pleasant terraces on the right but when the trees on the other side disappear you realise that the newly visible factories are not go- ing to win any architectural prizes. Leamington is the first large urban area the Grand Union passes through since Milton Keynes. They are very different. Whereas Milton Keynes is all about new clean industries logically laid out on business parks, Leamington's industry is on the greasy side, a sausage sandwich with fried onions compared to MK's Sweet Chilli Prawn Salad Wrap." (Grand Union canalwalk.co.uk)
"as we entered Royal Leamington Spa prior to crossing the River Avon. I think it would be fair to say that the town does not show its best face to boats coming from the east. A rundown industrial zone is never very attractive – even if the factory is producing Rangemaster cookers." (Racundra)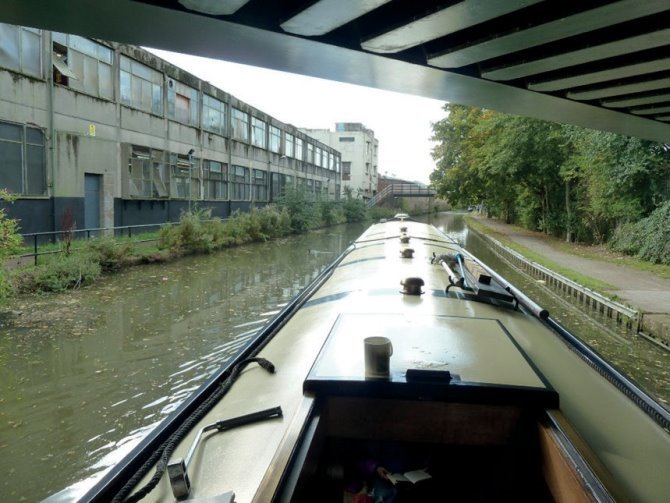 Approaching Leamington Spa with Rangemaster on left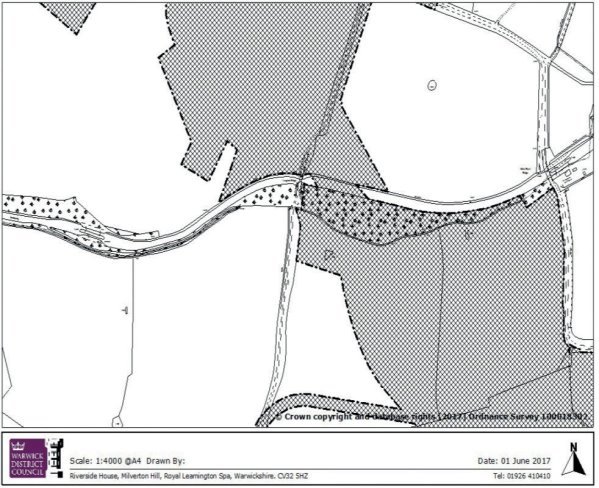 Canal and HS2 coincide to the east of Leamington (WDC) with a viaduct taking trains over the waterway
It is yet to be seen what sort of impact HS2 and the associated works will have on the canal. It is thankfully a very small section of the canal, on the edge of the district that will be directly affected, but is also in a rural setting where the incursion of a 21st century high speed railway will inevitably impact on the peace and serenity of this stretch of the waterway.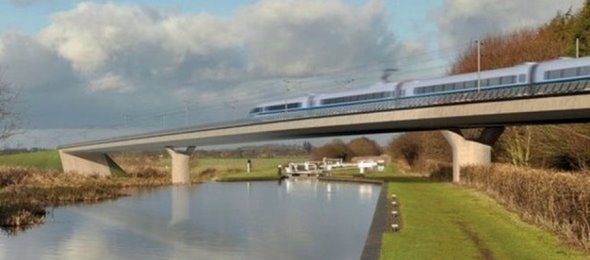 Artist's impression (Knight Architects)
4.7 Vacant/under-used buildings/sites
There may be vacant or underused buildings and land along the canal which, partly, because of their location away from major roads or contamination from previous users, are less attractive to would be investors. These need to be fully utilised and maintained. This may involve thinking of new uses which may be less mainstream, so thinking outside the box, including appropriate temporary uses where a permanent use is not immediately found. There are some obvious choices for new uses if the building is suitable; homes, offices, canal related uses, but there is also the potential for more imaginative uses; retail, restaurants and cafés, galleries and other leisure uses. Importantly, the need for additional purpose built student accommodation (PBSA) is putting considerable pressure on those vacant and underused sites alongside the canal. Whether this is a desirable continued use of such sites and whether it is concentrating students into an area already well provided for and causing some issues locally for existing residents, needs to be assessed. The need for additional student accommodation of this type to meet the growing numbers of students attending the University of Warwick is recognised but needs to be adequately managed. Whilst encouraging and supporting the university in its provision of on-campus accommodation, there is also a need for the provision of additional accommodation beyond the confines of the campus for those students in their second and third year of study, in order to return many of the currently occupied 'houses in multiple occupation' (HMO's) to the family rental market and reduce the number of students living this way: PBSA is the preferred solution. The Council will be producing a PBSA DPD to deal specifically with this issue.
(1) 4.8 Access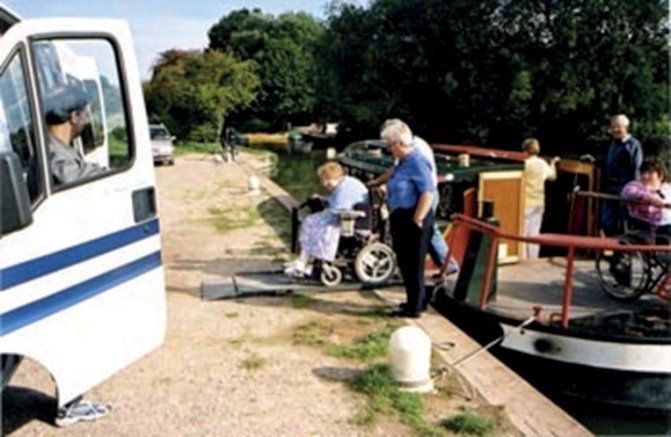 Wheelchair access direct from boat to bus (Accessible Boating)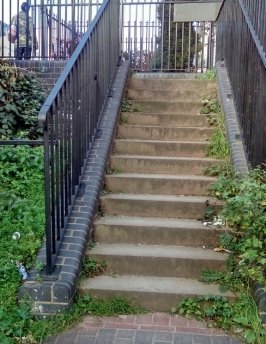 Poor access Leamington Spa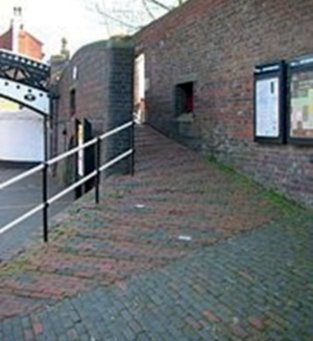 Improved access at Gas Street Basin (Wikipedia)
The Canal and River Trust quotes a number of comments it has received about the local canal and access issues:
'Weak cultural connections with the canal for certain economic, social, age and ethnic groups, Cultural diversity needs to make everyone feel the canals are for them.'
'Greater use of towpath by affluent A/B socio economic households. People/communities with different socio-economic and ethnic backgrounds do not view the canal as their local asset. e.g. Leamington.'
'Lack of interpretation & welcoming information, for example at Leamington and at Lapworth, there is a lack of signage and smartphone applicationinformation.'
Canals can and do flood from time to time, although it is less common than flooding by rivers, because there is some control over water levels on canals. Features like dams and locks enable users to reduce the risk of flooding by moving water from one part of the canal to another where there is less risk, meaning that canals are less likely to flood than natural waterways.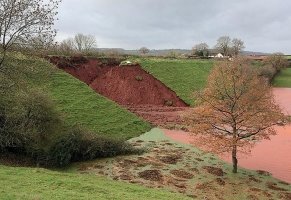 Great Western Canal, Devon, broke its banks in November 2012 (The Sun)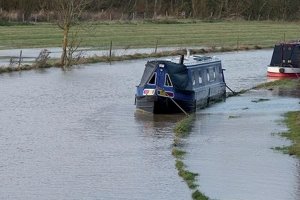 The Grand Union Canal floods onto towpath and fields near Towcester, November 2012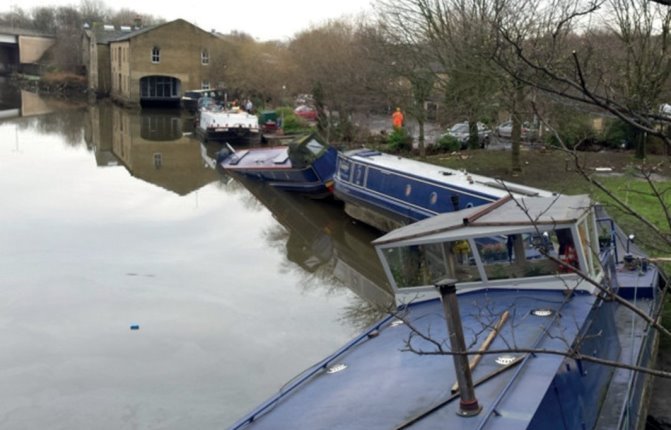 The Elland, Calder and Hebble Canal flooded in January 2016 (Canal Boat)
4.10 When there is a threat of a canal flooding, the Canal and River Trust removes excess water in a number of ways:
ensures weirs which send water out of the canal are not blocked
turns down the amount of water entering the canal in the flooded area
removes water from the canal as quickly as possible, using large valves (sluices)
if a canal has high water levels, it may be possible to move water through locks, down to unaffected locations
Canals provide a source of water supply, particularly to industry, agriculture and in times of drought. In order to preserve sufficient water levels in canals for navigation, fishing and wildlife, licences are required for abstraction. This allows the Environment Agency and Canal and River Trust, to monitor levels of abstraction and review licences in times of navigational drought.
The only permanent residential moorings that the Council are aware of are at Saltisford Arm where 7 moorings exist. Here, visitor, winter and short term moorings are also provided. Any new proposals for permanent residential moorings would be required to conform to the policies of the Canal and River Trust as outlined on the Trust website https://canalrivertrust.org.uk/enjoy-the-waterways/boating/moorings/waterside-mooring and the relevant permissions obtained. The council has not proposed this use as it is not within its control directly. The council may support applications for this use where there is a demonstrated need and in a suitable and sustainable location.
The council has not proposed any marinas on the canal network in the district. There are few suitable, sustainable and available locations for the development of a marina, although there is a need throughout the network for boat moorings and associated services. In the past, the Montague Road area has been considered the most suitable location, being located near to the towns of both Warwick and Leamington Spa where there are community facilities and good shops and services. With specialist boat builders and suppliers already located in this area, it would be the logical area of search. The Canal and River Trust deals with all aspects of marina development on its website https://canalrivertrust.org.uk/business-and-trade/inland-marina-development-guide Proposals must accord with the conditions set out by the Trust and with policies within the Warwick District Local Plan and this document.
All proposals to provide such a facility will be judged on their merits, but a sequential test will be imposed and a town centre first approach adopted to ensure that the most sustainable location is found.
The Canal and River Trust, in its document 'Putting the Water into Waterways, Water Resources Strategy, 2015 – 2020 lists the pressures that it sees will affect canals and therefore its work into the future. The foreseen pressures listed are:
Climate change
Increased boating
Reduced funding causing asset deterioration that impacts on water resources
Environmental legislation reducing water availability
Water transfers (strategic transfers, primarily in response to drought)
Water rights trading (which will be modified through the Abstraction Reform process)
Water sales (selling surplus water from the network)
Expanding the network (new or restored waterways)
The strategy sets out objectives to address these issues. Proposals that may have an effect on any of these issues, should be tested against the criteria listed in the document.
back to top
back to top