Parking Standards SPD
Ended on the 7th May 2018
How much cycle parking?
3.1 The standards for the amount of cycle parking required for residential development are set out in Table 1. Residential developments of all types and scales will be expected
to achieve these standards. This, plus the principles below, recognise the assertion of Manual for Streets (para 8.2.1 p99) that "..providing enough convenient and secure cycle parking at people's homes and other locations for both residents and visitors is critical to increasing the use of cycles. In residential developments, designers should aim to make cycle storage at least as convenient as access to car parking."
Cycle parking – how should it beincorporated?
3.2 Residential cycle storage should be both convenient (in terms of siting and ease of use) and secure. The pros and cons of different types of cycle storage are explored below.
On plot
Configuration
Pros
Cons
Recommendations
INTEGRAL TO THE PROPERTY FABRIC
(ACCESSED FROM AN EXTERNAL ELEVATION)

Convenient for residents
Secure (subject to appropriate lock)
Sheltered

Potential urban design considerations
Risk of cycle storage being converted and used for other purposes






Ensure the location is as accessible as possible
Use mortice locks for greater security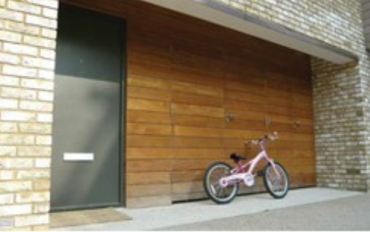 PROS
Integral
Configuration
Pros
Cons
Recommendations
GARAGE

May need to manoeuvre bicycles past any cars parked in front of the garage.
May need to manoeuvre bicycles around a car or cars parked in the garage.






Ensure there is sufficient space to manoeuvre a bicycle past any parked vehicles that might park in front of the garage.
Ensure there is sufficient space within the garage to manoeuvre bicycles even when there is a car parked in the garage.
Ideally cycle storage should be located as near to the front of the garage as possible to maximise convenience
Where cycle storage is proposed at the rear of a garage, additional manoeuvring depth may be required (i.e. to turn the bicycle 90 degrees around a parked car).

FREESTANDING BESPOKE CYCLE STORE OR SHED

Secure sheltered storage space
Larger scale stores likely to be useful for flats/apartments or other types of multiple occupancy properties.

Potential urban design considerations if freestanding shelter is to be located in front of a property.
Potentially less convenient in terms of access if located at the rear of the property






Freestanding storage sited in front of a dwelling must be carefully positioned so as not to have an undesirable visual impact or to block inter-visibility between the dwelling and the street.
Where sheds or freestanding storage is to be sited at the rear, careful consideration should be given to the route to this storage. It should:
- Keep the route as short as possible
- Avoid steep gradients and steps
- Avoid sharp turns / ensure sufficient space to manoeuvre a bicycle through the route
Use mortice locks to provide greater security

INTERNAL STORAGE SPACE (IN RESPECT OF APARTMENT BLOCKS AND MULTIPLE OCCUPANCY PROPERTIES)

Secure
Potentially convenient to access

Manoeuvring a bicycle through an internal space is likely to require additional space and wider doors for example.






Ensure designated storage space is located on the ground floor (avoid the need to move bicycles up or down stairs)
It should be located as close as possible to the main point of access.
Ensure that access requires minimal doors to negotiate with a bicycle and ensure that relevant doors are sufficiently wide to pass through with a bicycle without hindrance.
Avoid consecutive doors internally.
Shared cycle storage
3.3 In some residential developments there may be a need/desire for shared external cycle parking for visitors and/or residents. Where this is to be provided (e.g. in the form of Sheffield Stands or cycle sheds), the following principles should be applied:
It should be sited in a legible location, ideally close to a principal route
Stands should be sited so they do not obstruct pedestrian or cycle desire lines along a street
Cycle storage should benefit from natural surveillance from surrounding properties, and other movement activity.
Storage provision should be secure and lit as appropriate.
back to top
back to top